The case of unjust murder of George Floyd raised a series of protests. The protests were to criminalize officers who targeted George as he was black. In addition to that, people of the United States demonstrated against the racial discrimination. In the light of the same many people came forward to support the racial equality. Basket-ball player Michael Jordan announced on behalf of him and the his brand that they will donate 100 million dollars.
His Jordan Brand is a shoe-and-apparel division of Nike, would donate the funds of 100 million over the next 10 years with the goal of 'ensuring racial equality, social justice and greater access to education'.
Jordan brand is a shoe and apparel division of Nike. They pledged to give 100 million years to the community in order to push the goal of social justice to Black people.
His Statement on Friday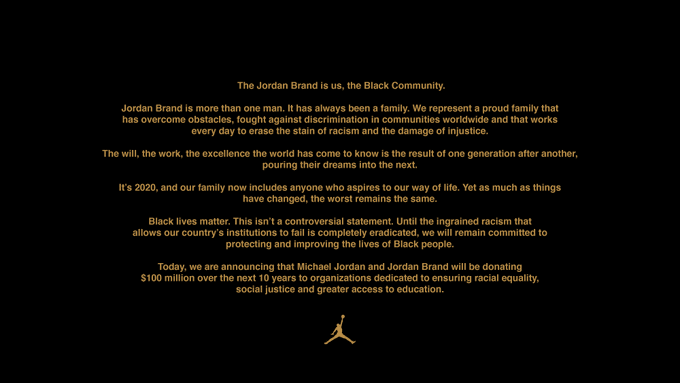 Statement of Michael Jordan on twitter was inclusive of all who are afican-american and belong to the culture and ethnicity. he goes on to say this.
'The Jordan Brand is us, the black community. Jordan Brand is more than one man. It has always been a family.
'We represent a proud family that has overcome obstacles, fought against discrimination in communities worldwide and that works every day to erase the stain of racism and the damage of injustice,' he said.
'The will, the work, the excellence the world has come to know is the result of one generation after another, pouring their dreams into the next.
'It's 2020, and our family now includes anyone who aspires to our way of life. Yet as much as things have changed, the worst remains the same.'
His pledge comes just days after he joined thousands of Americans in voicing his anger and frustration over the May 25 death of George Floyd in Minneapolis.
'I am deeply saddened, truly pained and plain angry,' he said of Floyd's death. He added, 'I see and feel everyone's pain, outrage and frustration. I stand with those who are calling out the ingrained racism and violence toward people of color in our country. We have had enough.' 
Floyd died on May 25 after white police officer Derek Chauvin, who has been charged with murder, put his knee on Floyd's neck for several minutes as he lay handcuffed on the pavement, gasping that he couldn't breathe. 
In addition to this, the brand they are collaborating with, Nike has also done the same. They have pledged to donate 40 million for four years for the same cause, separately.