If you are associated with computers in any sort or if you are a tech freak you might have heard the term ARTIFICIAL INTELLIGENCE.
So what is ARTIFICIAL INTELLIGENCE?
It is a broad area of computer science that make the machine seem like they have human intelligence. The goal of AI is to mimic the human brain and to create systems that can function intelligently and independently.
Following are the few examples of AI:
– Smart Assistants (SIRI, ALEXA)
– Drone Robots
– Conversational Bots
TYPES OF ARTIFICIAL INTELLIGENCE
Narrow or Weak Artificial Intelligence
General or Strong Artificial Intelligence
Artificial Super Intelligence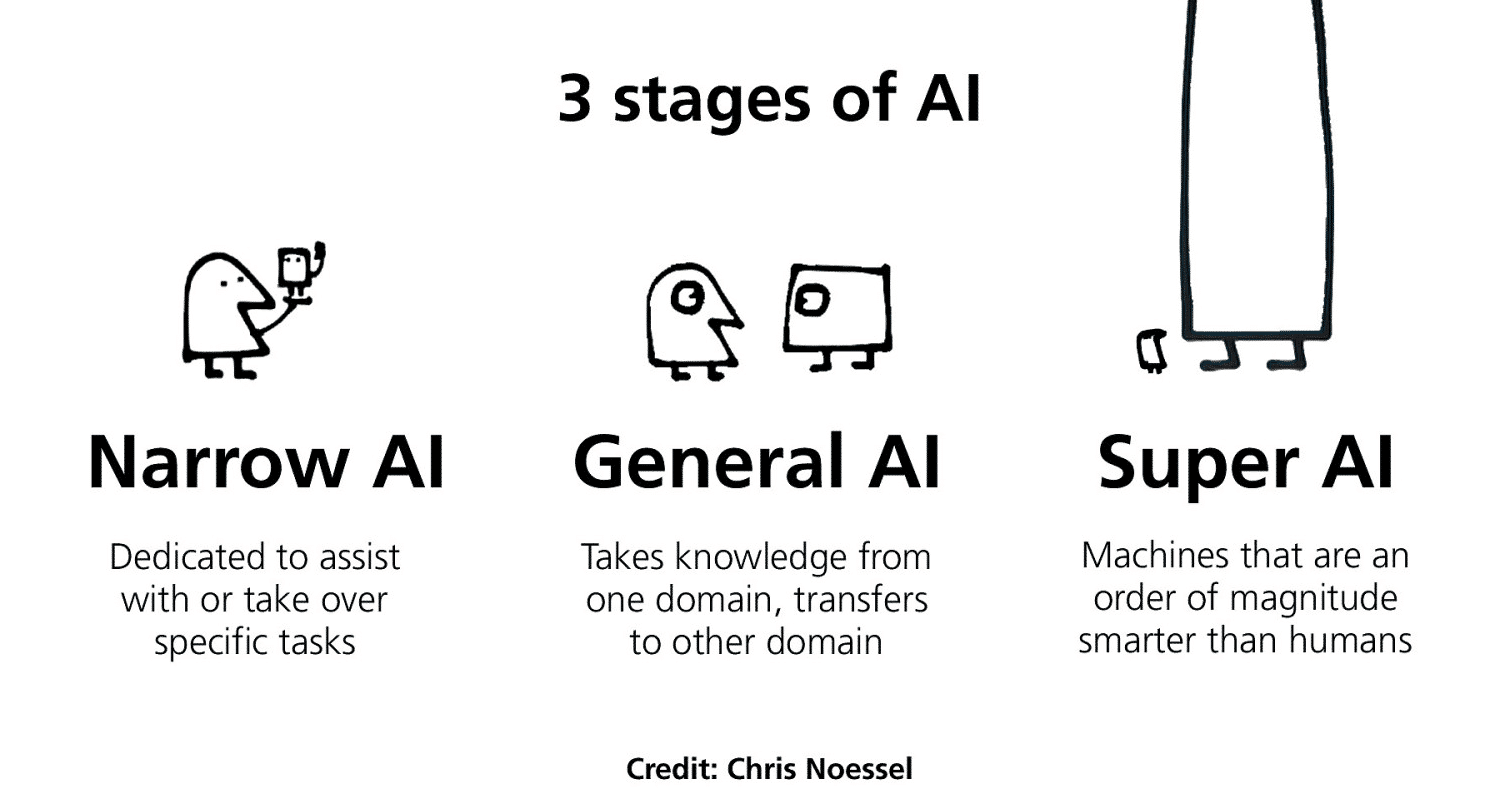 Now the main question arises.
Where are we?
What have we achieved?
We have so far excelled in the field of Narrow AI and are empowering our way into the way of General AI.
So, let's discuss the types of AI.
Narrow or Weak AI
Narrow AI is designed to perform singular tasks such as facial recognition, voice assistants, driving a car, or searching the internet.
These may seem intelligent but they do have certain limitations. For example:
Sometimes when you talk to the Google assistant it may misinterpret what are you saying which ending you not getting the desired results.
General or Strong AI
General AI is the concept of a machine with general intelligence that mimics human intelligence.
It has the ability to learn and apply its intelligence to solve any problem. Since the human brain is the model for creating general intelligence it is quite hard to achieve General AI.
Artificial Superintelligence
Artificial superintelligence (ASI), is the AI that doesn't mimic or understand human intelligence and behavior. It is where machines become self-aware and surpass the capacity of human intelligence and ability.
MYTHS ABOUT ARTIFICIAL INTELLIGENCE
The rise of AI is leading to various controversies and myths in the world. For example:
What will be the future of the job market once AI occurs?
Will it control humans and many more?
People do need expertise on these things, so lets clear up some myths.

APPLICATIONS OF ARTIFICIAL INTELLIGENCE
Knowledge reasoning
Planning
Machine Learning
Natural language processing
Robotics
So now it all comes down to one thing i.e how can one get to learn AI.
HOW TO LEARN ARTIFICIAL INTELLIGENCE

Basically if one wants to learn artificial intelligence you should start to learn a programming language.
There are a lot of programming languages but If you are a beginner start with some introductory python courses.
Here are some good resources for python:
There are programming languages app through which you can learn as well.
CAREERS IN ARTIFICIAL INTELLIGENCE

"AI IS THE FUTURE"
So basically there will be a lot of job opportunities for sure in the future.
Following are some of the options:
CONCLUSION
The modern technologies that are powered by the Artificial Intelligence have influenced the work in the 21st century.
So, in conclusion AI is a boon that can help optimize any job.
This means it's not always AI vs HUMANS
rather it's the combination of HUMANS and AI vs the virtual problem statement.
So, what are you waiting to pull up your socks and get ready to be a part of this AI revolution?

You may also like:
http://acquirehowto.com/machine-learning-the-future/